Why reviews are a waste of time — Deepak Shukla // Pearl Lemon
Founder of Pearl Lemon, Deepak Shukla, continues the discussion on the importance of reputation management. On one hand, reviews equal customer engagement, which equals pleasing the algorithm. On the other hand, they aren't guaranteed, even if you offer excellent service. Deepak tackles why reviews may be your biggest waste of time
About the speaker
Deepak Shukla
Pearl Lemon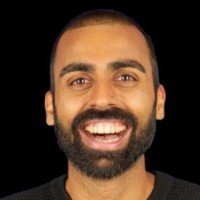 Part 2

Why reviews are a waste of time — Deepak Shukla // Pearl Lemon
Show Notes
01:41

Why reviews are a waste of time

Customer reviews may not provide enough information to demonstrate value received from brands or companies.

03:36

The value of reviews

While reviews may not paint the clearest picture of the business capabilities, they still count towards customer engagement.

04:46

When reviews matter

When the cost is low, reviews dont matter as much. At the B2B level, reviews are more relevant because of the high cost involved.

05:44

Optimizing reviews

Write the review on the customers behalf and have them edit and approve. This increases quality and allows you to use the necessary keywords to rank.

09:37

Why the review request process is a waste of time

Simply put, most customers wont leave a review. It is more important to get high quality reviews from the right customers.
Quotes
"When reviews are done badly or aren't optimized, they can look suspicious and do you more damage than they can do anything that's positive and productive." - Deepak Shukla, Founder, Pearl Lemon

"When its business to consumer and the transactional spend is low, reviews dont really matter as much." - Deepak Shukla, Founder, Pearl Lemon

"You don't need a review if you're going to go to the cinema to spend 15 bucks. If it's three and a half thousand bucks or a $12,000 contract, then it matters." - Deepak Shukla, Founder, Pearl Lemon

"Curtis Boyd, head of a company fighting the fake review epidemic, said fake reviews work because they help you gain visibility." - Benjamin Shapiro, Host, VOS podcast

"It's always useful to think about how I can please the unreasonable man. Because if I can please the unreasonable, I can please anybody." - Deepak Shukla, Founder, Pearl Lemon

"You can include keywords in your actual review to help it rank and give it relevancy for what you're trying to be found for." - Deepak Shukla, Founder, Pearl Lemon

"I think the reviews inherently become a waste of time because most people wont execute on that process." - Deepak Shukla, Founder, Pearl Lemon

"You have to know your audience and who to ask for a review. Because it's easy to waste time asking people for reviews that are just not going to leave them." - Deepak Shukla, Founder, Pearl Lemon
Part 2

Why reviews are a waste of time — Deepak Shukla // Pearl Lemon